Fancying Friday with China Glaze
I have decided to do a weekly post called Fancying Friday, which is basically a collection of things I fancy, and I would appreciate anyone donating these to me : )
It is a wishing Wednesday post, on a Friday, since my Wednesdays are taken over by wedges!
First up, Fairy Dust by China Glaze. I adore this fine glitter polish, and it makes any mani look like it was dipped in a big pot of fairy dust!
Next up, Too Yacht to Handle... Just google swatches of this polish, and you will know why I am in love!
And lastly, all the China Glaze Eye Candy 3-D Glitters are amazing, and would be a great addition to my collection!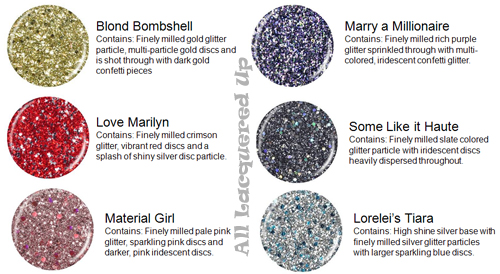 China Glaze polishes are available from Maskscara online and in-store, check them out
HERE
. They are also available at salons, I have seen them at the Yemaya Express Nail Bars too.
And there you have it, what do you fancy?

To everyone in SA, enjoy your Human Rights Day!
Labels: Fancying Friday, Shopping Guide, Wishlist